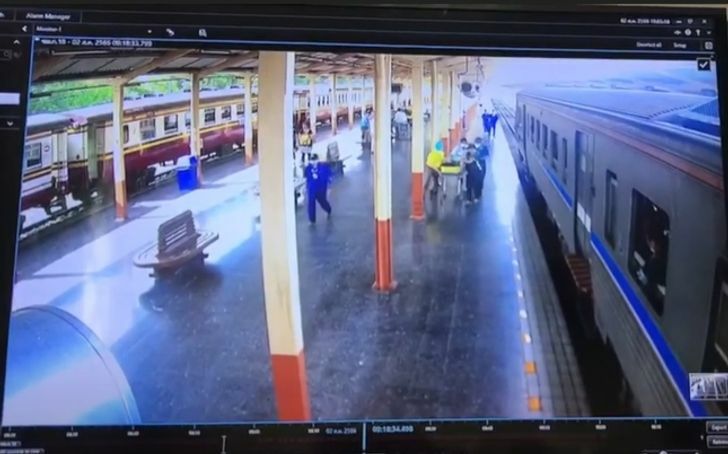 Picture courtesy of Sanook.
An off-duty nurse, aided by railway police, performed life-saving CPR on a woman who collapsed at Chiang Mai Railway Station in northern Thailand. The woman's relatives are overwhelmed with gratitude, describing the timely intervention as a miracle, stating if she had been delayed at the hospital, she would have been lost forever.
According to railway police officer Narongsak Chaitham and his colleague Somsart Wandee, the incident occurred on the Wednesday morning of August 2 when they were overseeing passenger convenience on train number 13. Passenger Jittaphattana, a teacher in a private school in Chiang Mai, collapsed and her heart stopped while waiting for a pickup at Chiang Mai Railway Station, warranting immediate intervention.
At that moment, a woman passerby identified herself as a nurse and came forward and applied an automated external defibrillator (AED) while performing CPR, which brought life back to Jittaphatna's heart before an ambulance could transport her safely to McCormick Hospital, reported Sanook.
Jittaphattana's relatives thanked the railway police and managed to locate the kind-hearted nurse Waraphorn Thongtip. She works as a staff nurse at the Yan Neng Public Health Hospital in Saraphi District, Chiang Mai.
Today, the 48 year old victim's family travelled to the Chiang Mai Railway Police office, to thank them, also extending their gratitude to nurse Waraphorn with a basket of fruits. The moment they saw Waraphorn, the victim's relatives hugged her with compassion.
Jittaphattana's uncle, 67 year old Krittipong, said…
"As soon as she was sent to the hospital, the doctors immediately sent her to the ICU. Now her condition is gradually improving."
He added that Jittaphattana's case is a rare one as she lost consciousness and had a 50% chance of surviving. He expressed heartfelt gratitude to the railway police, the off-duty nurse, and everyone who helped save his niece's life from a 50/50 survival chance due to sudden kidney and cardiac failure during unconsciousness.
Waraphorn said…
"I felt delighted that I could use my profession to save someone's life."
Chiang Mai Railway Police officer Narongsak said railway police are prepared to assist passengers and the public in emergencies, and thanked the good-hearted nurse and everyone who came forward to help.
He mentioned that the public using the station or the train could notify the officials immediately in cases of emergency, and they will coordinate with relevant agencies immediately. Even though the railway police will be disbanded in the future, there is still the Royal Thai Police to ensure the safety of the public and passengers as usual.