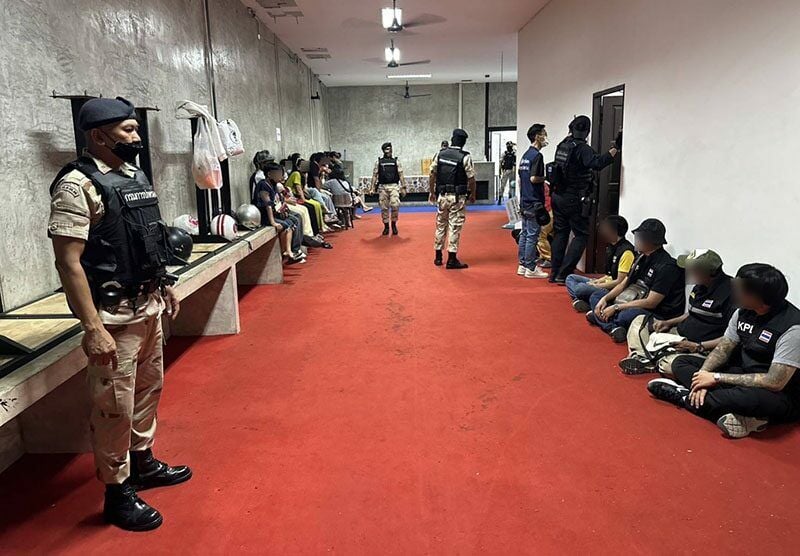 Picture courtesy of KhaoSod.
Chiang Mai administrative team, led by Ronnarong Tipsiri, swooped on several prominent gambling dens operating in the heart of the city. After a collaborative operation involving over 40 officers from various entities, they arrested 104 people behind an operation that had a daily turnover of over 1 million baht (US$28,530). This decisive action took place yesterday, in response to multiple public complaints received by Thailand's Ministry of Interior's Centre for Maintaining Justice.
The operation targeted two unique gambling establishments, 89 CLUB Casino in the Santitham area and Phattarawan Snooker Club in the Chang Phueak areas, which were reportedly operating on alternate schedules to circumvent legal scrutiny. These dens offered games like Dragon Tiger card, Hi-Lo, and Baccarat, attracting over 100 gamblers each day. Evidence suggested that each venue had a capacity of up to 300 people, with funds circulating over 1 million baht daily.
Upon inspection, each establishment had one guarded entrance, dedicated parking spaces under continuous surveillance, and 11 closed-circuit cameras installed. Patrons were not allowed to use mobile phones and had to surrender them before entering. The dens also provided snacks, drinks, and meals for the gamblers, alongside entertaining games like Fish Shooting to light-hearted entertainment, reported KhaoSod.
The officers seized 31 cars, 10 motorcycles, and a large amount of cash, along with numerous gambling equipment. All captured individuals were taken to the Chiang Mai Local Government Office for formal arrests and the initiation of their cases for gambling illegally. Cases were then referred to the furthest investigative officers at the Chiang Phueak Police Station.
Ronnarong stressed that the offending dens flagrantly violated the law and provided gambling services in populated community areas, undermining the authority of law enforcement agencies. He encouraged citizens to report any further gambling dens or illegal activities to the local police or administrative services. If no action is seen, they can complain to the Local Office of Maintaining Justice, the Provincial Centre for Justice Maintenance, or the Ministry of Interior's Centre for Maintaining Justice.
Chiang Mai NewsCrime NewsThailand News